Discover more from The Compound Digest
Recent developments from the Compound ecosystem
Over 7,000 subscribers
Vote Results, Etherscan, and Coinbase
Compound Weekly, 9/16
Welcome to Compound Weekly, where we present updates from the Compound community & ecosystem. To learn more and contribute your updates,  please join over 4,000 other members in our community Discord.
Community Vote Results
Compound's community vote #3 is now complete! Maker (MKR) and Tether (USDT) received the most votes from the 1,547 participating users; a total of 802,455 (weighted) votes out of approximately 2 million potential votes were cast.
Etherscan Compound Integration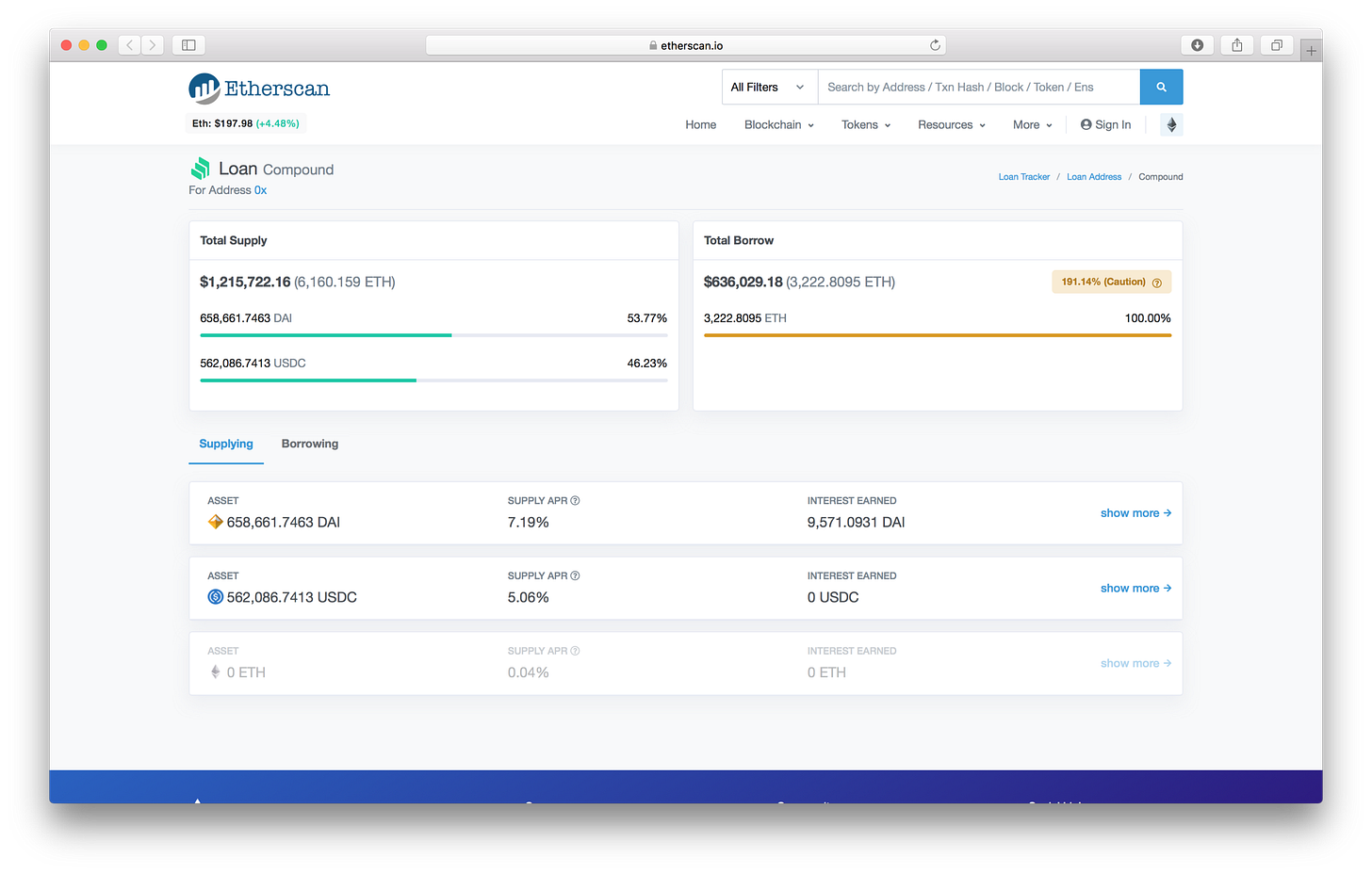 Etherscan has integrated with Compound and now provides a detailed supply, borrow, and transactions tracker.
To try this with your address simply go to this URL and paste in your address to see the information on supply, borrows and transactions:
https://etherscan.io/loans/compound/0xYOURADDRESS 
Coinbase USDC Bootstrap Fund
Coinbase is showing strong support for the growing DeFi ecosystem with a dedicated USDC fund, which supplied 1,000,000 USDC to the Compound protocol.
Robert Leshner says that the USDC Bootstrap Fund can be seen as "the starting point for the legitimization of open finance" and states:
"Coinbase is a financial institution and the fact that it's engaging with open financial applications is going to be seen as a rallying cry for other institutions to do the same."
Launches & Updates
Recent Press
Thoughts
Markets
Current total supply is at $156.0 million, with 11,430 suppliers, and current total borrowing is at $39.7 million, with 1,347 borrowers.
For live figures please refer to our /markets page.
More
---
Keep in touch with Compound