UNI Market Launches, ETHOnline Hackathon Begins, Protocol Contribution Guide, Governance Updates 
Compound Digest - October 7, 2020
Highlighting the best of the Compound ecosystem. For more updates, join the Compound community on Discord, Twitter, and Comp.xyz.
Uniswap (UNI) Market Launches

Following the successful voting period and execution of Proposal 25 on October 3, UNI is now an active market on Compound. This is the first new market since the addition of USDT in May and is initially deployed with the JumpRateModelV2 interest rate model, a reserve factor of 20%, and a collateral factor of 60%.
UNI is the governance token for the decentralized exchange Uniswap, and marks the first time that a governance token has been supported on Compound. Its cToken contract, cUNI, includes a single new function; the ability to Delegate the UNI held inside the contract to an address specified by Governance. The contract has been initialized as undelegated, but in the future Compound Governance will be able to participate in Uniswap Governance using the tokens held in the cUNI contract.
In addition, the cUNI market was created with a 2.0 million UNI borrowing cap, which was reached just a few days after market launch. The community is now polling for interest in raising or removing this borrowing cap.
Visit app.compound.finance today to earn interest on, or borrow UNI!
ETHOnline Hackathon Begins

Compound Labs is sponsoring this year's ETHOnline Hackathon, and is offering prizes for the below categories. 
Bounty 1 of 3: Best Use of Compound.js ($1,500 cUSDC Prize)
Bounty 2 of 3: Best New Governance Tooling ($1,500 cUSDC Prize)
Bounty 3 of 3: Compound Protocol Improvement Proposal ($2,500 cUSDC Prize)
The Compound Labs team is available to provide guidance on anything technical, design, or business-related, and can be reached on the ETHOnline Discord Server in the #sponsor-compound room. 
You can also learn about how to build on Compound in this pre-recorded kickoff workshop.  
Protocol Contribution Guide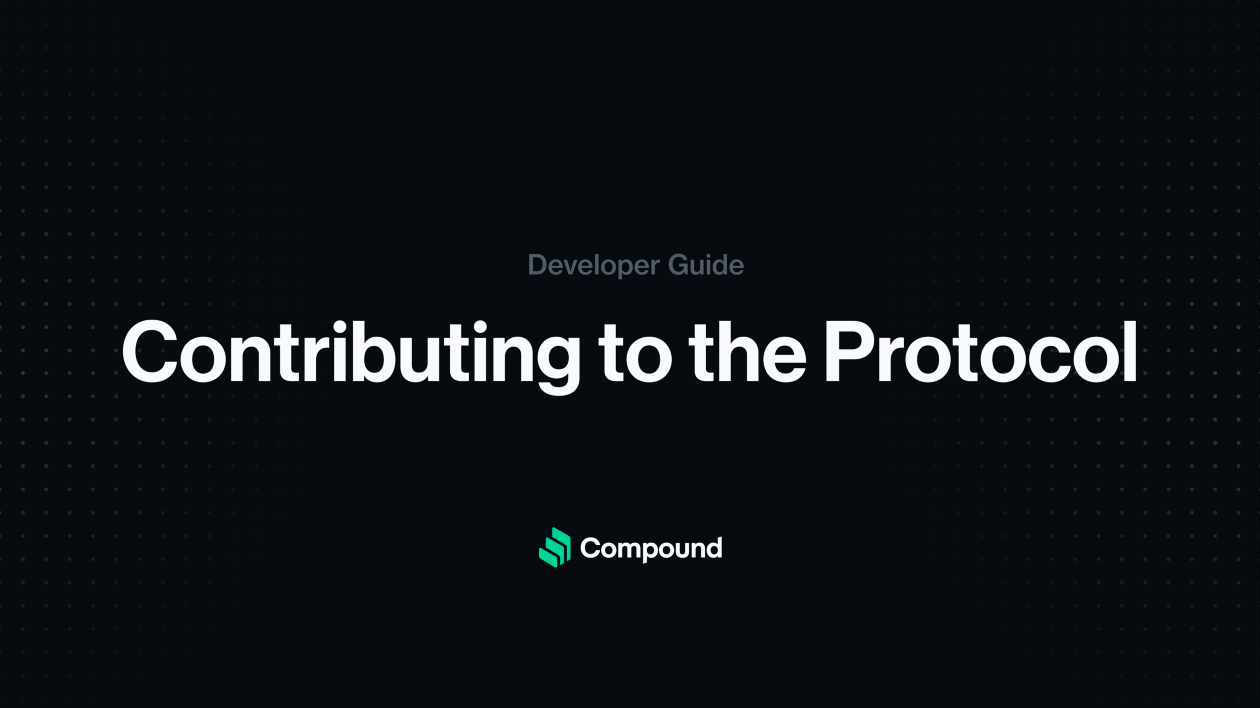 Compound Labs' Developer Relations lead recently published A Walkthrough of Contributing to the Compound Protocol, a step-by-step guide to proposing and implementing changes to the Compound smart contracts. The guide takes developers through the process of modifying source code, deploying a patch on-chain, and creating a governance proposal for community voting and execution.
One of the most significant advantages of decentralized applications is the ability to crowdsource knowledge and expertise from a global community. Compound's long-term success will depend on this type of community participation, and we invite you to directly make your voice heard through code! 
See developer guides in the developer section on Medium, check out the developer documentation, and join the discussion in the Compound Community Forum as well as the Compound Discord.
Governance Updates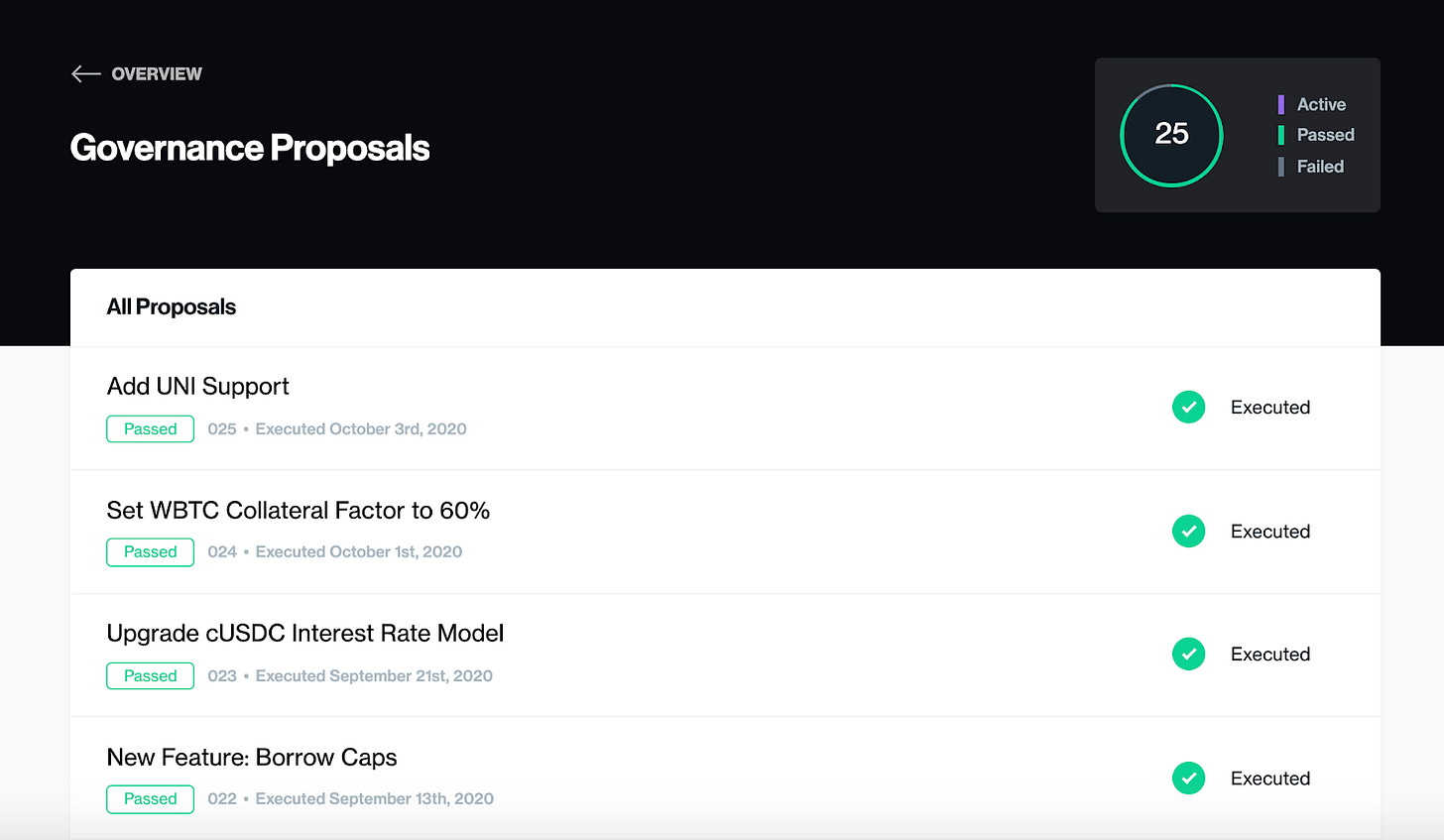 Completed Votes
Since the last newsletter, Proposals 24 and 25 passed through Compound Governance with wide voting margins.
Proposal 24: Set WBTC Collateral Factor to 60%
Proposal 25: Add UNI Support
Ongoing Discussions
See below for highlights from the Compound governance forum, and join in the discussion:
Be sure to either vote on proposals with your COMP, or delegate your COMP voting rights to a representative of your choice.
Markets Update
Current supply on Compound is at $1.8B from ~37k unique addresses. In the past seven days, approximately $557M (gross) was added to the protocol, in 3.8k transactions. 40% of this volume was USDC, 33% was ETH, 21% was DAI, and 3% was USDT (source). 
Open borrowing is at $1.1B from 5.4k unique addresses. In the past seven days, approximately $110M (gross) was borrowed from Compound in 970 transactions. 62% of this volume was DAI, 18% was USDC, 10% was USDT, and 8% was ETH (source). 
For live figures please refer to our Markets page.
Links & Discussions
Tweet of the Week

My proposal passed! Thank you @compoundfinance voters. https://t.co/Nt7gs89HSS