Compound Weekly, 8/26
Welcome to Compound Weekly, where we present updates from the Compound community & ecosystem. To learn more and contribute your updates, please join over 3,000 other members in our community Discord.
ETHBerlin
A great deal of developer activity happened recently at ETHBerlin. The event seemed like it was very successful judging by the pics, videos, and updates. Ten of the projects were built leveraging Compound Finance. Here is a list of them with a brief description: 
Tornado Lend-  Allows contract creators to make smart contract locked funds available by lending them to DeFi services like Compound. 
Virtue Dao- A new kind of decentralized autonomous organization that incentivizes virtuous swarm of autonomous agents aligned with the DAO's mission.
Bearrowing- Tokenization layer for positions in lending & borrowing platforms with interoperability of debts.
Offset Dao- Offset the risks of DAOs by using rDAI.
Fry the DeFi- One stop shop for newcomers to the DeFi ecosystem with a fiat on-ramp.
YAW- A smart contract wallet which takes care of your gas costs.
DAI Insured- Incentivized bots prevent CDP liquidation with no trust required.
And winners of ETHBerlin that built on Compound included:
LSDai- Earn Compound interest with your rDAI collateral, while providing liquidity for hedges against variable Compound interest.
RateLock- Fixed interest rate term loans via Compound and powered by an on-chain interest rate swap order book system. 
Cherry Swap-  An autonomous, open-source platform for interest rate swaps on Compound Finance markets.  
"The cDAI token allows for a multitude of interesting use-cases. One that we imagined was to allow users to hedge against and/or bet on the future interest rate of the market. - Haythem Sallami
Launches
Updates & Press
Data & Visuals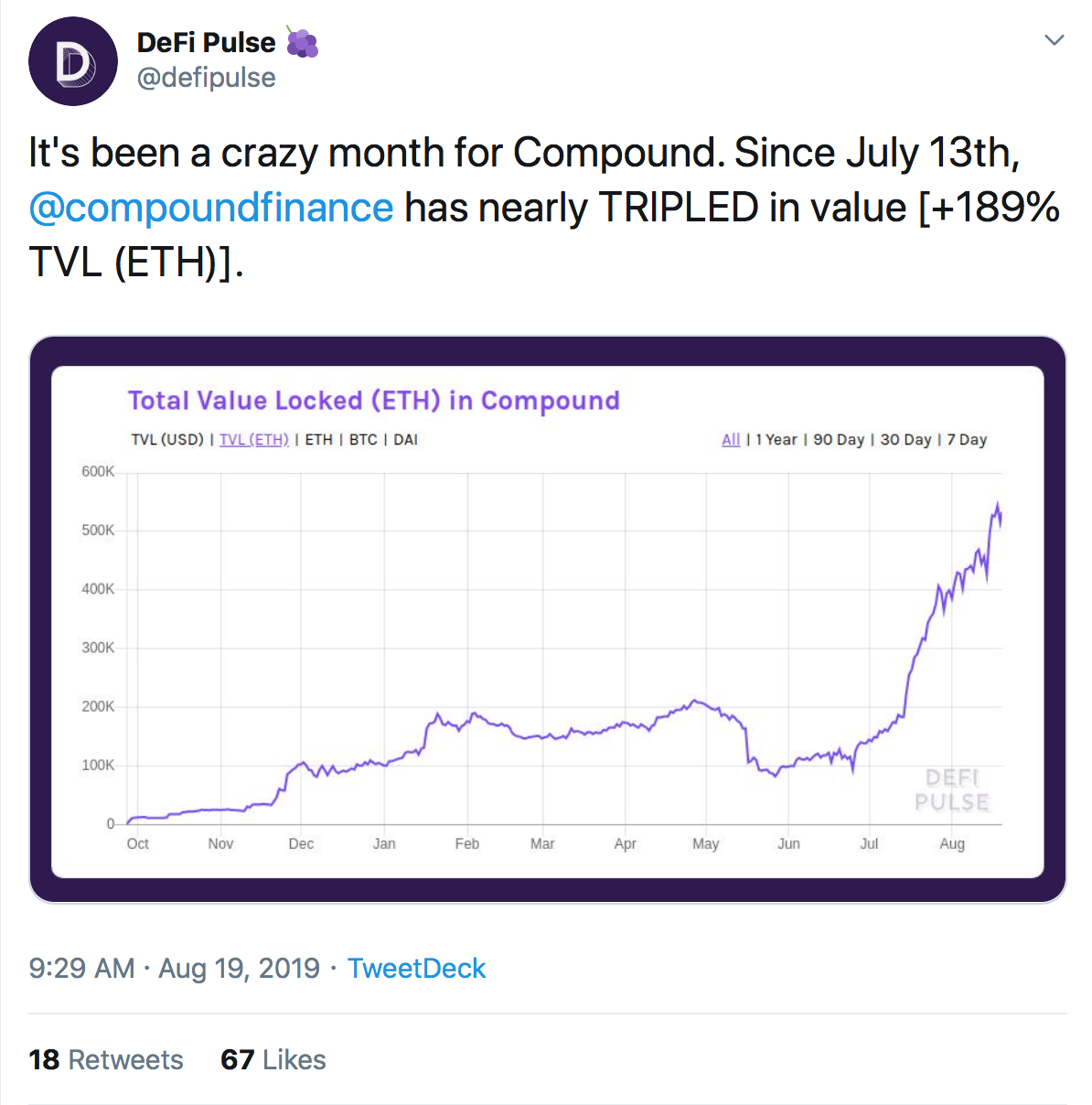 Since July 13th, Compound has nearly tripled in value [+189% TVL (ETH)].
Markets
The number of unique addresses supplying assets to Compound reached 9,739. This number has grown an average of +15.7% every week for the past ten weeks!
Total supply in Compound increased +1.0% week-over-week to $160 million, despite a -6.9% decrease in the USD price of Ether. The USDC market again led the way in growth, and now has ~$30 million of supply.
The count of borrowers grew +7.8% to 1,306 unique addresses, and total outstanding borrowing volume increased +3.1% to $46 million.
For live figures please refer to our /markets page.



More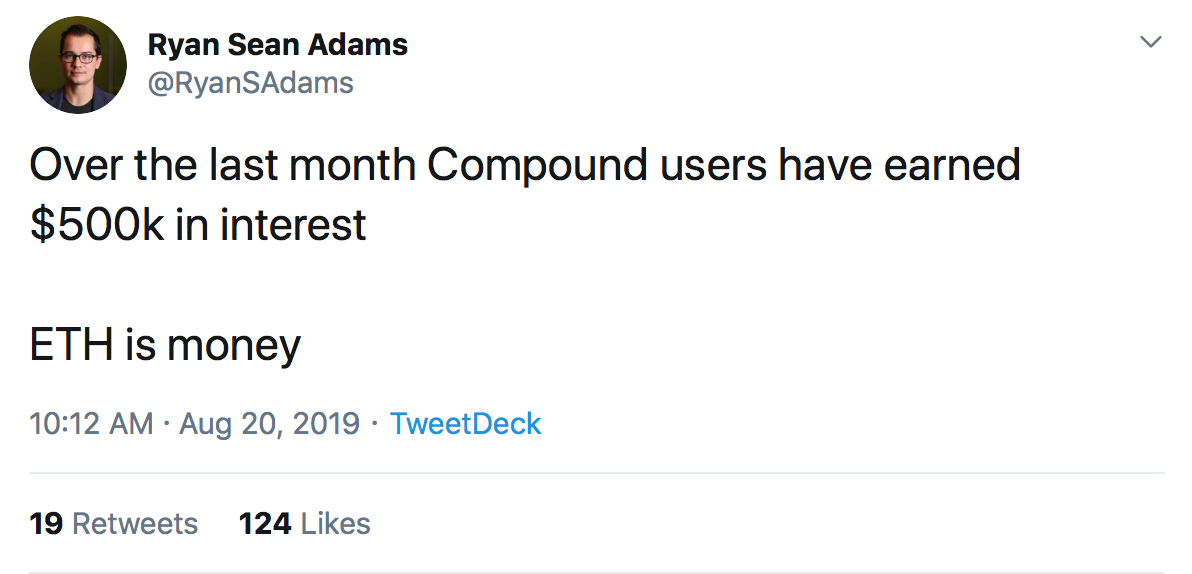 Compound users have earned over $500k in interest over the last month.
---
Keep in touch with Compound