Compound Multi-Collateral DAI Support, Version 2.2 Upgrades, and more
Compound Weekly, 10/15
Support for Multi-Collateral DAI

The Compound protocol currently supports DAI, a stablecoin created by the MakerDAO ecosystem. MakerDAO's team has announced their intention to release a new version of the stablecoin, Multi-Collateral DAI ("MCD") on November 18th, and intent to deprecate the existing token through global settlement months later.
Following the development, review, and auditing of a cToken contract, as well as a determination of Multi-Collateral DAI suitability, MCD will be added to the Compound protocol.
Compound Version 2.2 Upgrades are in Code Audit
Version 2.2 of the Compound protocol moves all administrative functions behind a 2+ day time delay (complemented with an emergency escape hatch) and streamlines the borrowing flow. The code is currently in audit, and the protocol will be upgraded soon after.
Compound Highlighted in the Maker Ecosystem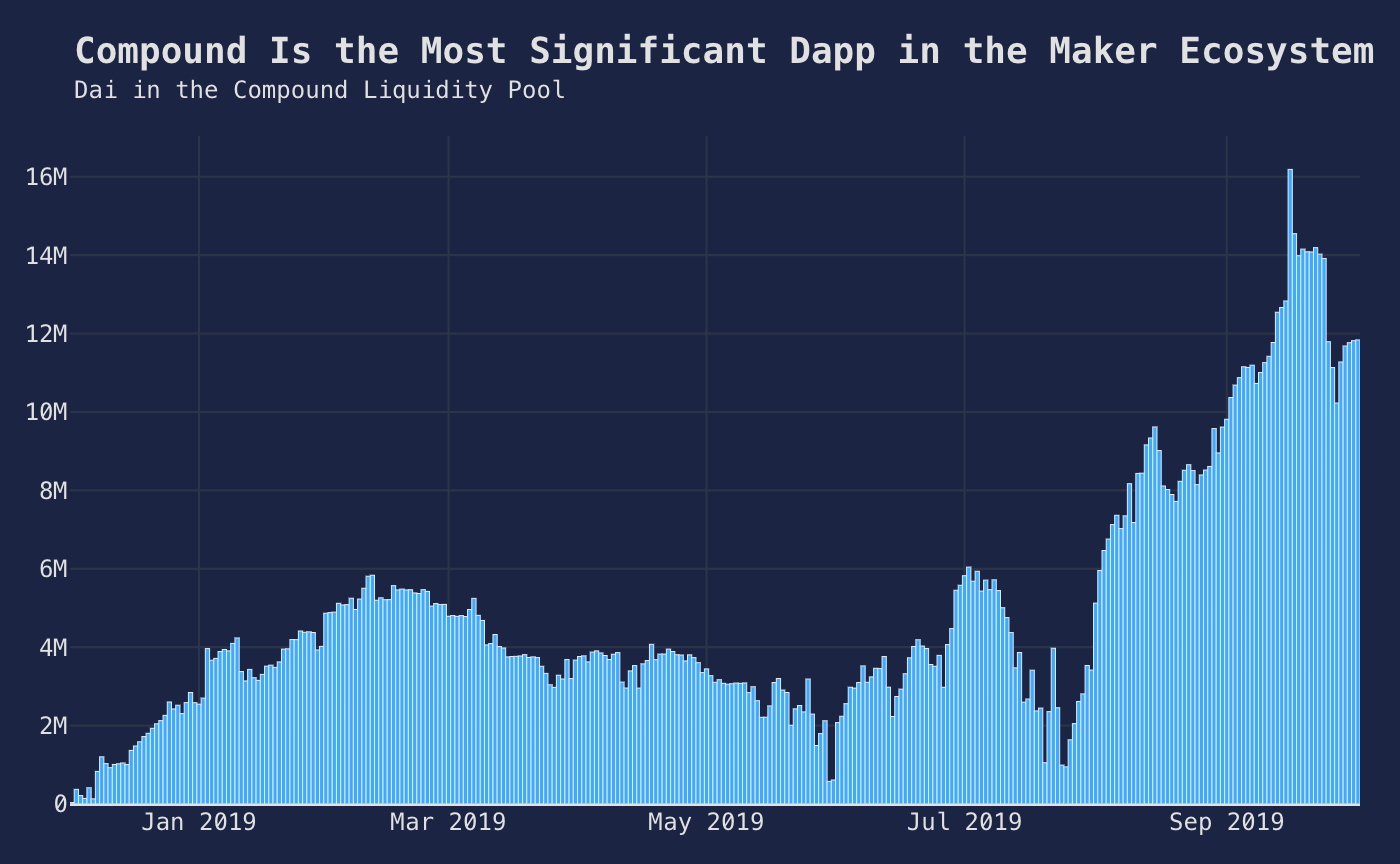 MakerDAO recently released the DAI in Numbers Momentum Report, which discusses Compound's growth in the context of DAI usage. Key points include:
Argent Wallet Launches on Android
Argent has relaunched their Android app, which now features an integration with Compound. Argent offers a slew of benefits to users including ease of use, high security, no seed phrases, the ability to set daily withdrawal limits, no gas fees and free ENS.
An Interview with Itamar
Lesuisse
, founder of Argent
Q. So tell us about Argent, what does it offer and how is it different from other wallets on the market?
A. Argent has used smart contracts to build the only non-custodial wallet with the ease of use and security of the best new bank apps. There's no seed phrase or gas, plus you can lock it, set daily limits and approve large transfers. You can also earn interest with Compound in literally just a couple of taps, all on mobile.
We built Argent because we knew that to drive the mass adoption of crypto we had to transform its usability and security. We're excited by crypto's potential to offer anyone, anywhere, access to financial opportunity and self-sovereign identity.
Q. What made you and your team decide to leverage Compound?  What was the integration like? 
A. We decided to use Compound for three reasons. First, the use case itself - anyone with an internet connection being able to access a dollar savings account - is awesome. Instead of assets just sitting in your wallet you can put them to work. That's why we're focused on the savings side of Compound.
Secondly, we're big fans of the Compound team. They've built an important component of DeFi's future with a strong community around it. And finally from an integration perspective, Compound is well documented and clearly architected. This helped us to quickly understand how to use their contracts.
Q. What are your growth goals with this new Android release?
A. With both our Android release and the iOS integration we're hoping to help hundreds of thousands of people access Compound over the next couple of years. In the near term we expect it will be existing crypto users but by abstracting away all the complicated parts of crypto we're aiming to open it up to a new audience.
Q. Speaking of growth, can you tell us about your vision for the future of crypto and DeFi?
A. As I touched on above, we want to get to a stage where we can give people the unique benefits of crypto without them having to know what's under the hood, or even that it is crypto at all. We want the user experience to be seamless, and be able to directly rival the best products from the world of traditional finance.
This needs to go hand in hand with solving real problems for people at a global scale. This growth will attract a broader and more diverse audience, and in turn inspire new projects that can solve yet more problems. In more specific terms, identity, privacy and building bridges to legacy finance are three big issues for the years ahead. We believe people should own their own digital identity. It should be portable between projects and reduce friction when accessing new digital services. Privacy is very important. The technology is evolving rapidly but yet there are open questions about the regulatory implications. 
We do think that bridging crypto and legacy finance can benefit both areas. For the former, it can help bring more users and liquidity, while the latter would see more transparency, innovation and user control. 
Q. What other new features are being developed at Argent?
A. We're busy adding more on-ramps, and have just partnered with Wyre to serve US users. We want people to have a 1 to 1 on-ramp to a stablecoin, just as if they were loading their Robinhood account.  We're integrating Wallet Connect to provide access to a wider range of dApps. And we're always refining the core wallet experience based on our users' invaluable feedback.
Try Compound on Argent
Thoughts
Markets 
Total supply is currently at $159 million from 11,990 suppliers. Total borrowing is at $42 million from 1,200 borrowers.

The three largest suppliers this week minted $2.6 million of cDAI and cUSDC; $1.5 million of cDAI, cETH, and cUSDC; and $1.5 million of cDAI, cETH, and cUSDC. The three largest borrowers this week borrowed $900k of DAI and USDC; $600k of DAI and USDC; and $300k of ETH.
For live figures please refer to our /markets page.
More
Keep in touch with Compound