cCOMP Launches, Compound Developer Community Calls, New Coinbase Earn Tasks, and Governance Updates
Compound Digest - October 22, 2020
Highlighting the best of the Compound ecosystem. For more updates, join the Compound community on Discord, Twitter, and Comp.xyz.
cCOMP Market Launches

Following a successful voting period and execution of proposal 27, COMP is now a supported market on Compound. cCOMP uses the same implementation contract as cUNI and is deployed with a 60% collateral factor, a 20% reserve factor, the JumpRateV2 interest rate model, and a 50k COMP borrowing cap.
The cCOMP market can delegate its voting rights to any address Compound Governance approves, just as with the cUNI market. In the future, it's likely we'll see these markets vote as a single large block on governance proposals for Compound and Uniswap.
At the time of writing there is over $9 million of COMP in the market, with about $7 million of liquidity.
Announcing Compound Developer Community Calls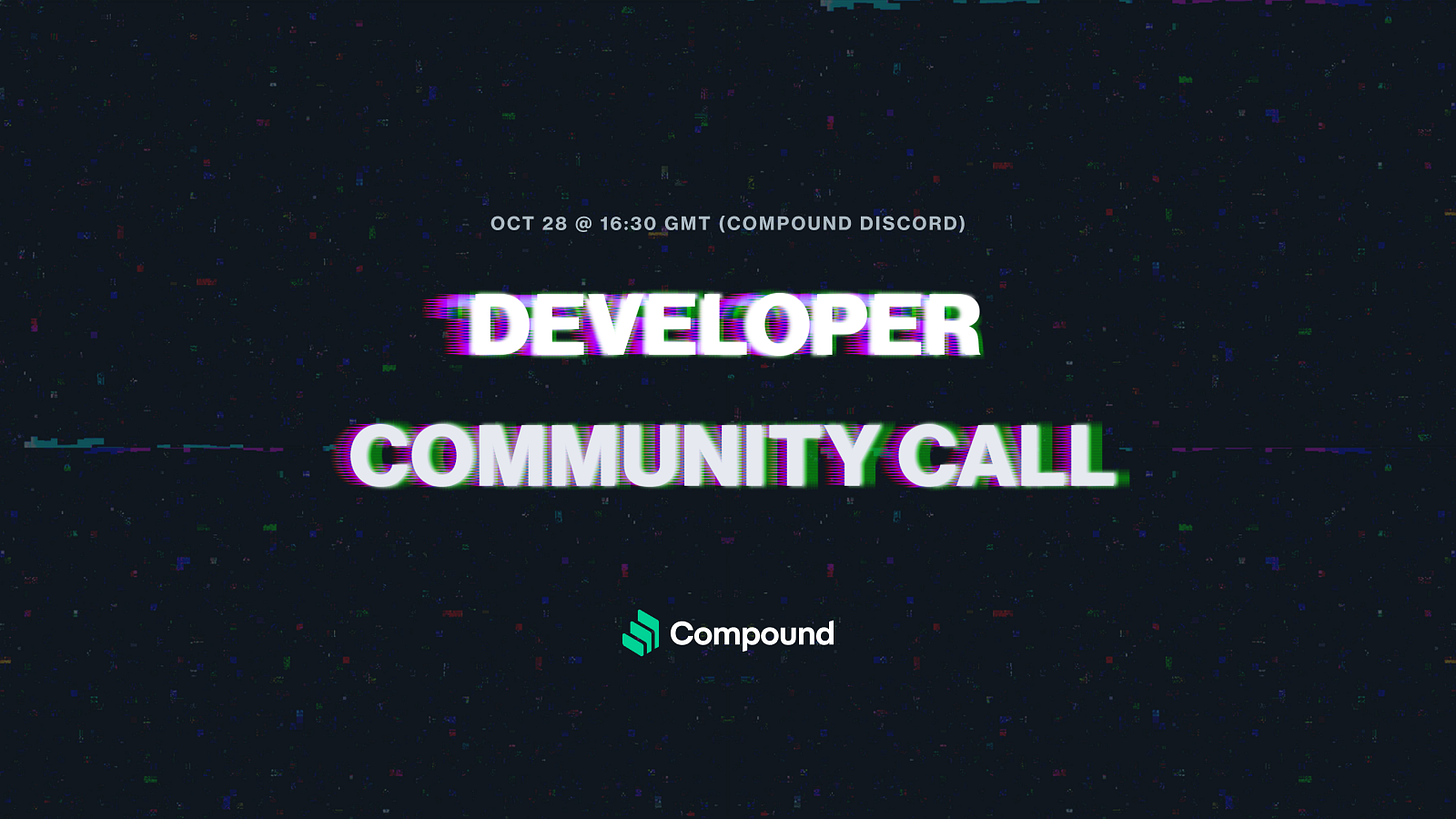 Starting next week, the Compound developer community will begin holding bi-weekly calls as a discussion forum for folks building applications on the protocol, or making changes to the protocol.
Hope to see you there!
New Advanced Coinbase Earn Tasks

Coinbase launched new Advanced Earn Tasks for Compound, rewarding users with $10 of COMP for supplying USDC to Compound. 
In the lesson, Coinbase provides users with $3 of USDC (and enough ETH to cover gas fees) to their Coinbase Wallet accounts. Inside of Coinbase Wallet, users can natively supply and withdraw assets from Compound, and be rewarded with COMP for doing so. 25,000+ Coinbase users have completed the advanced lesson, contributing to the protocol surpassing 60,000 total suppliers. 
Along with the other available Earn tasks, users are now able to earn a total of $59 in COMP through Coinbase.
Governance Updates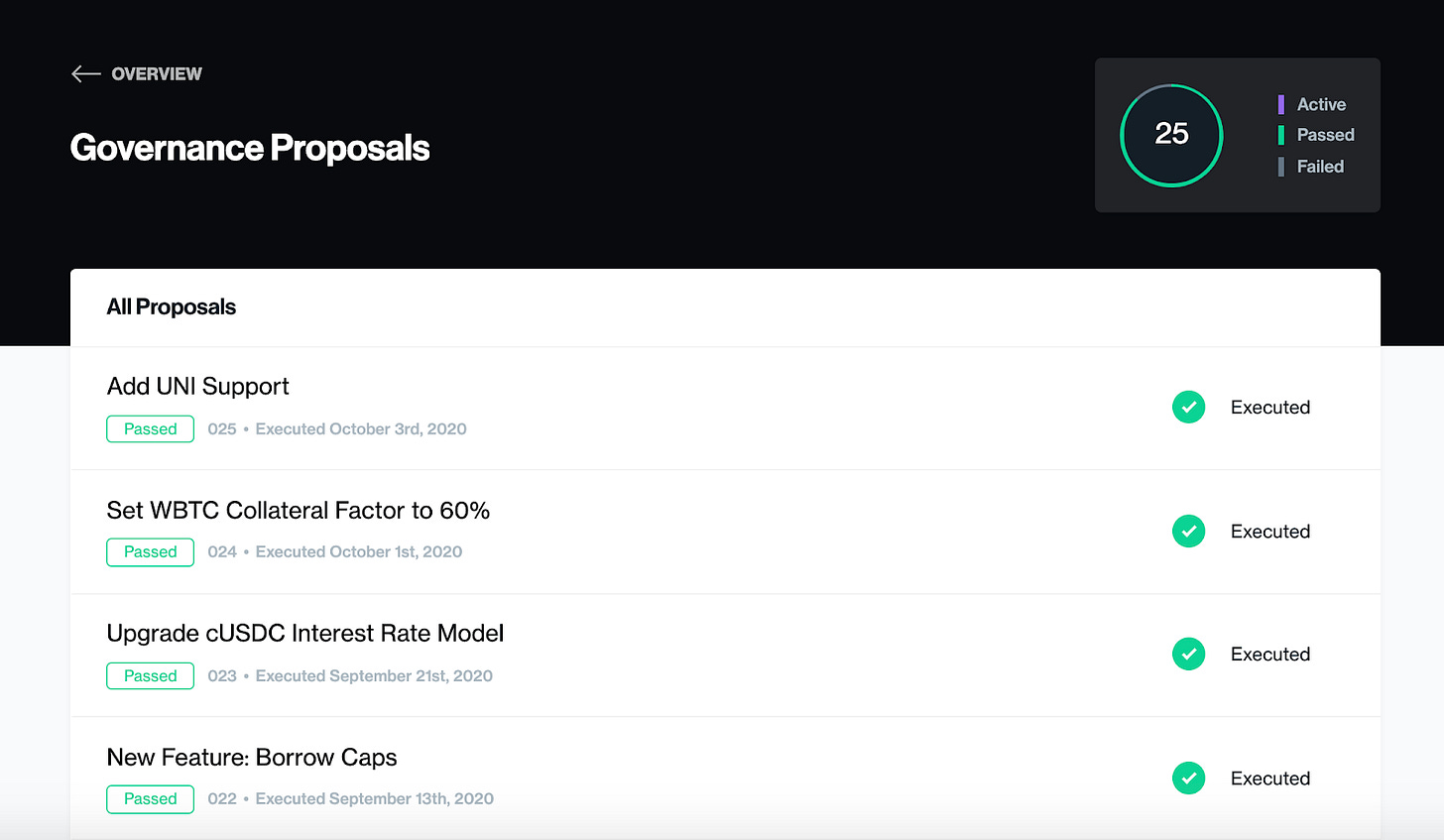 Completed Votes
Since the last newsletter, Proposals 26 and 27 passed through Compound Governance with near-unanimous support.
Proposal 26: Uniswap Improvement Strategy
Proposal 27: Add COMP Support
CAPs
Getty Hill created a new autonomous proposal to increase the collateral factors of ETH and USDC from 75% to 85%. He explained in an accompanying Twitter thread that high liquidity for these assets reduces the risk of liquidation default and justifies more efficient borrowing. Consider delegating your support to this CAP, or follow this guide to create your own if you have at least 100 COMP.
Ongoing Discussions
See below for highlights from the Compound governance forum, and join in the discussion:
Be sure to either vote on proposals with your COMP, or delegate your COMP voting rights to the representative of your choice.
Markets Update

Current supply on Compound is $2.3B from ~60k unique addresses. In the past seven days, approximately $785M (gross) was added to the protocol, in 27k transactions. 41% of this volume was ETH, 27% was DAI, 15% was USDC, and 14% was WBTC (source). 
Open borrowing is at $1.3B from 5.8k unique addresses. In the past seven days, approximately $243M (gross) was borrowed from Compound in 1.5K transactions. 69% of this volume was DAI, 18% was USDC, 7% was USDT, and 4% was ETH (source). 
For live figures please refer to our Markets page. 
Image source: IntoTheBlock.
Links & Discussions
Tweet of the Week