Discover more from The Compound Digest
Recent developments from the Compound ecosystem
Over 7,000 subscribers
API Update for Multi-Collateral DAI, Unspent Integration, MCD Call
Compound Weekly, 11/11
Multi-Collateral DAI API Update

Compound API Upgrade: in the coming days, Compound APIs will begin returning the names SAI and DAI in their corresponding market; the asset called DAI will begin referencing a new address/market.
Unspent Integration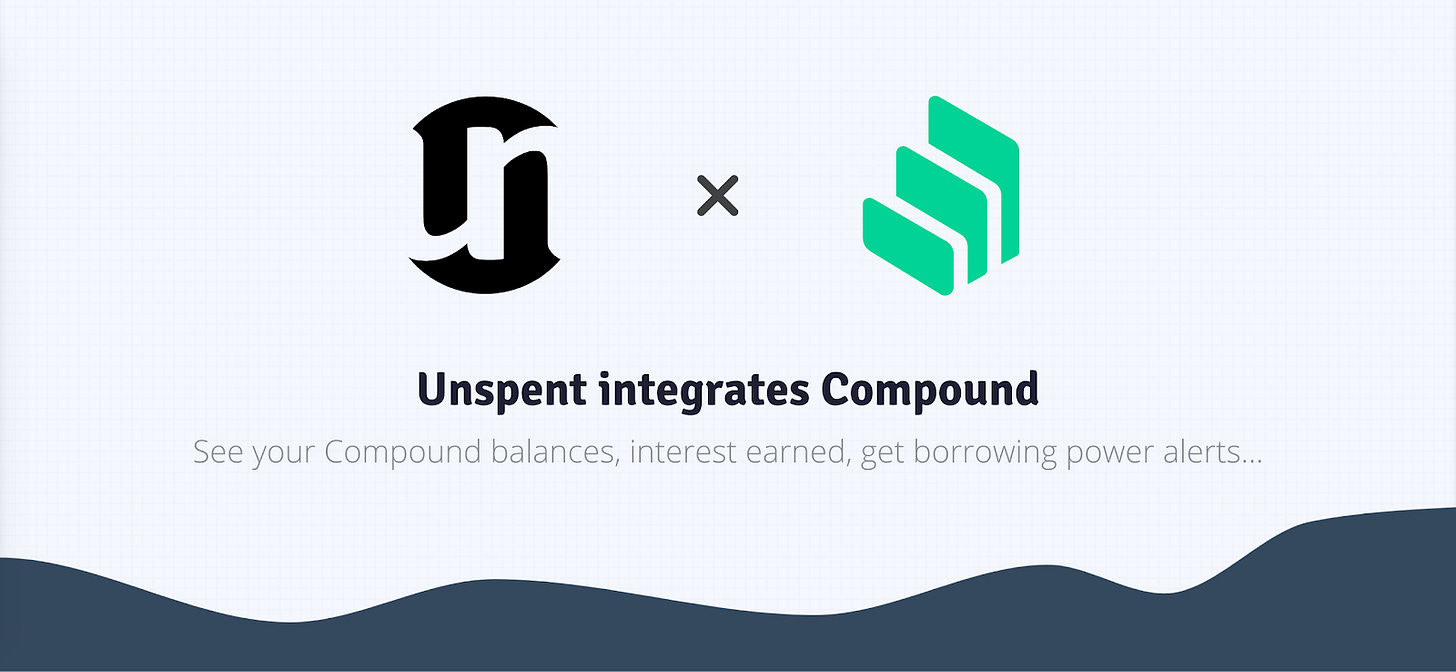 Unspent now automatically synchronizes all of your Compound activity from the Ethereum addresses you've added on Unspent and displays all of the relevant information in a simple dashboard. It shows the total value and total interest of assets you are lending or borrowing.
"I wanted Unspent to offer a Compound dashboard because it's one of the most popular open finance services, and has one of the best and simplest UX." - Philippe Masset, Unspent founder
The Massive Potential of Multi-Collateral DAI Video
"The Massive Potential of Multi-Collateral DAI" was held recently featuring Robert Leshner (Compound CEO), Steven Becker (MakerDAO President & COO), Tim Ogilvie (Staked CEO), and Allison Lu (UMA Co-Founder and COO).

The group discussed and presented information regarding the transition to Multi-Collateral DAI and the opportunity it presents.  Robert spoke about Compound's adoption of MCD and the updates to cTokens like cDAI. His presentation can be seen beginning around minute 26.
Thoughts
Markets
Total supply is currently at $120 million from 13,000+ suppliers. Total borrowing is at $27 million from 1,250+ borrowers.
The three largest suppliers this past week minted $7.5m of cETH; $3.7m of cETH; and $3.3m of cETH. The three largest borrowers this past week borrowed $2.9m of DAI; $1.4m of DAI, USDC and ZRZ; and $436k of DAI, ETH and USDC.
For live figures please refer to our /markets page.
More:
---
Keep in touch with Compound